BlueWave Accessibilty statement
BlueWave is committed to providing facilities suitable for people with disabilities.
As part of our commitment we are currently upgrading this website to meet internationally recognised accessible website guidelines produced by the World Wide Web Consortium (W3C) and working to AA level of those guidelines or Priority 1 and 2 checkpoints WCAG2.
This page provides information on ways that this website has been written to assist users identify helpful features of this site. The level of accessibility will be an ongoing endeavour to help make the site as open and available to all as is possible.
Primarily, we have provided an accessibility function for users to change accessibility features, globally, for the BlueWave website.
This provides the ability to:
Change the size of the text
Move around the pages using a keyboard
Change fonts to more readable font styles
Add greater contrast to the page
Underline links on a page to make them easier to identify
Visually highlight links on a page, via a 'colour all links yellow' button
Clear cookies, to refresh the current page
Make images black and white and cut down eye strain, by making the page shades of grey (greyscale)
Invert page colours, to combat page brightness

Basic measures are:
Navigation
Navigation of this site is accomplished via:
Links across the top and bottom of each page
Navigation within each page
A site map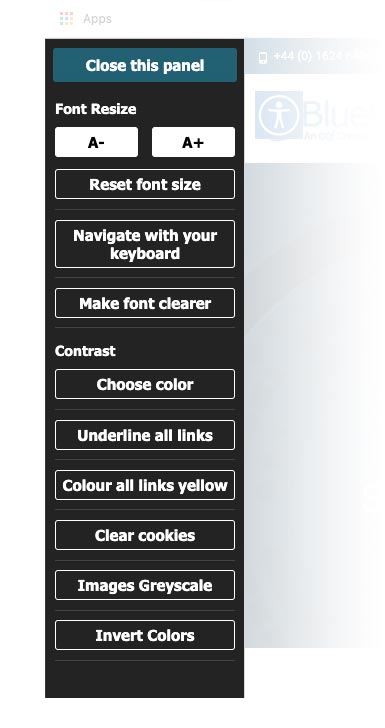 Flexibility
This site has been designed using relative Cascading Style Sheets to allow the user to override the default appearance of the site in a number of ways, the most basic of which is to ensure that users can change the font size easily through their browser options.
Font size
At BlueWave we considered the need of people to see larger fonts sometimes and therefore visitors can dynamically change the font sizes in their web browser in one of two ways:
Press down the CNTL button whilst using the mouse wheel to increase or decrease text size
From the browser menu bar select View - Text Size and select a size from the list
Alternatively, use a browsers Zoom feature to increase the size of content on your screen by simply pressing Ctrl with + to increase, and Ctrl with - to decrease text size.
PDF documents
While wherever possible we have provided an HTML version of content on this website, some content is provided in Adobe Acrobat PDF format. For information on how to access this content with specialist browsers please visit Adobe and accessibility.
http://www.adobe.com/accessibility.html
PDF documents
The official W3C guidelines are available at www.w3.org/WAI
http://www.w3.org/WAI/
Contact us
If you have a problem accessing any part of our site please contact the web team.
https://bwc.im/contact-us/
Thank you.