The former BBC transmitter site located at the top of Carnane in Douglas has been recently acquired by Bluewave. This area not only has spectacular views of the Irish Sea but also of the whole of Douglas and beyond.
The purchase is part of BlueWave's continued commitment to investment on the Isle of Man.  The operator has also been granted planning permission for a new 40 metre telecommunications tower on the site, decommissioning the existing shorter tower.
Not only does the site have a good view of Douglas and beyond, but also a huge wireless reach, boosting the number of business and residential addresses reached.
Professor Adam Beaumont, CEO of BlueWave commented on the development
"Bluewave has the backing of aql holdings. This allows this agile island operator to own it's infrastructure and therefore control it's costs. This is key to bringing down the costs of ultrafast connectivity to businesses and consumers alike.  This is the first of many such investments. In all instances, we intend to work with local suppliers to build out our network footprint."
Shelley Langan-Newton, BlueWave Managing Director said,
""We are now looking forward to progressing this project at full speed.  Once this is done, we're not only looking to provide 4G services, but to also trial 5G technologies and use our masts to support other innovators and telecoms operators on the island."
In line with the Isle of Man Government's Program for Government and the Island's Telecommunications Strategy, BlueWave wants to support a strong and growing connected society on the Isle of Man, for both its people and its businesses.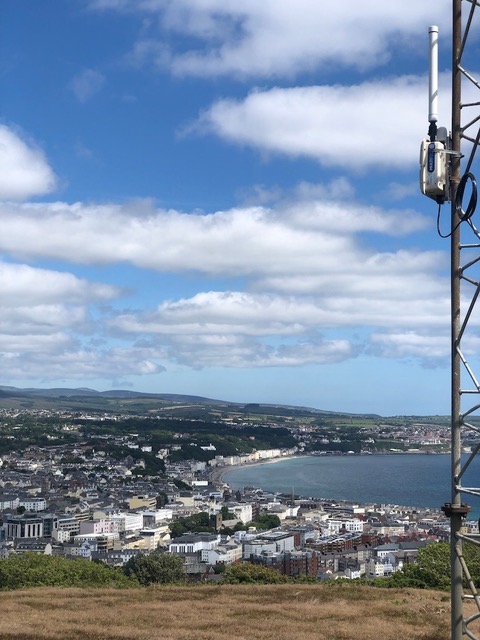 The Minister for Enterprise, Laurence Skelly MHK said,
"I welcome the significant investment by BlueWave in to the Isle of Man's technology and telecoms infrastructure. It's encouraging to see the redevelopment of existing redundant telecoms sites, and sitting in line with recently released National Telecoms Strategy, BlueWave are playing a part in creating an Island telecoms infrastructure which will be recognised as being world class."
BlueWave, for over the last decade, has used its mast space around the Island in order to transmit communications on the Isle of Man to Isle of Man residents, companies and communities.   BlueWave has invested heavily in complex mapping technology to provide line of sight and mobile coverage calculation using accurate LIDAR maps of the island.  From this, a data driven approach was taken to identify sites to acquire to roll out coverage footprint.
BlueWave's agility as a small operator lends itself to "internet of things" services and wireless broadband.  If you've got a smart application, whether it be water metering, vehicle tracking, connected shipping or agriculture, BlueWave is here as a specialist to solve the future's connected society challenges.